Sakis Retail Systems
Business Presence Clocks Rhodes
MAX ER-1500 Electronic Time Recorder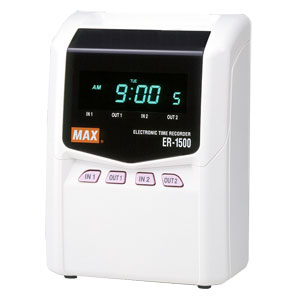 The MAX ER-1500 is your ideal partner for recording staff hours. It can record up to 150 employees a month (up to 50 employees per month with daily sets), amazing design, great durability.
- Economical, small, robust, and capable of a daily total of hours.
- Easy to program.
- Easy to operate.
- Daily Total Time.
- 4 daily columns.
- Print special symbols for delay, early departure and Overtime.
- Unique security system with key card.
- Payments per week / fortnight / month.
- Automatic change from and to daylight saving time.
- 5 years of data storage.
- Wall mounted capability.
- Impressive printer with high quality.