Sakis Retail Systems
Banknote Detectors Rhodes
Banknote Detectors feature:
- Import a banknote at any time.
- Quick and accurate control
- Control of magnetic elements, infrared (IR), security tape, banknote length.
- Displays the bill value after screening and the number of banknotes checked.
- Ability to upgrade
Filing - Banking Detectors
Money Scan N-5 Cash Counter / Scanner
Verification of authenticity UV, MG, IR
Input hopper capacity 200 banknotes
Outlet hopper capacity 150 banknotes
Counting rate 1000 banknotes / minute
Bright LCD multi-display
Keyboard with 7 function keys
Count pieces
Select automatic / manual mode
Set count count count selection
Counts the new € 5, € 10 and € 20 banknotes
Operating voltage: AC220V / 50Hz
Consumption: 70W
Weight: 6 pounds
ELECTRONIC CATOMETER & BANKNOTE DETECTOR.
ERGONOMIC AND FUNCTIONAL

It has a full keyboard that offers flexibility and speed in choosing counts.
Counting parameters settings and exploiting their capabilities are very easy to choose from using the flexible and simple program via the keyboard.
It offers absolute reliability and precision in counting.
It has a microcomputer, which controls all the functions of the machine.
CONTROL SIZE BANKNOTES
- Finds half and double banknotes.
- Detects banknotes of varying size by checking thickness, banknote height.

CHECKS ON THE MANNER OF BANKNOTES
- Checking the quality of the paper through an ultraviolet UV lamp.
- Authenticity check with MG detector.
- Metal film authentication with MT detector, new technology that controls the conductivity of the metal strip.
- Infrared IR IR detector test.
- It has a Color Image Sensor.
- Approved by the ECT for the detection of counterfeit notes.
POSSIBILITIES
- Counting rate 1000 banknotes / minute.
- Counts and controls EURO, US DOLLARS, and Pounds of England.
- Immediate preset count from the full and ergonomic keypad.
- Large illuminated LCD screen with full messages.
- Possibility of gross counting of banknotes with its appearance
of total value and analysis of their banknotes
measured.
- Automatic countdown.
- Add counts, displays the sum of more metrics.
- Input bank for 200 banknotes.
- 300 bank note hopper.
- Silent mode.
- Connect to a second screen for the customer.
- Bill dimensions: 110 x 50 to 185 x 90 mm.
- Self-diagnostic fault system.
SPECIFICATIONS:
- Operating voltage: 99-245 V.
- Consumption: 40 W.
- Weight: 6.2 kilos.
- Dimensions: 285 x 236 x 170 mm.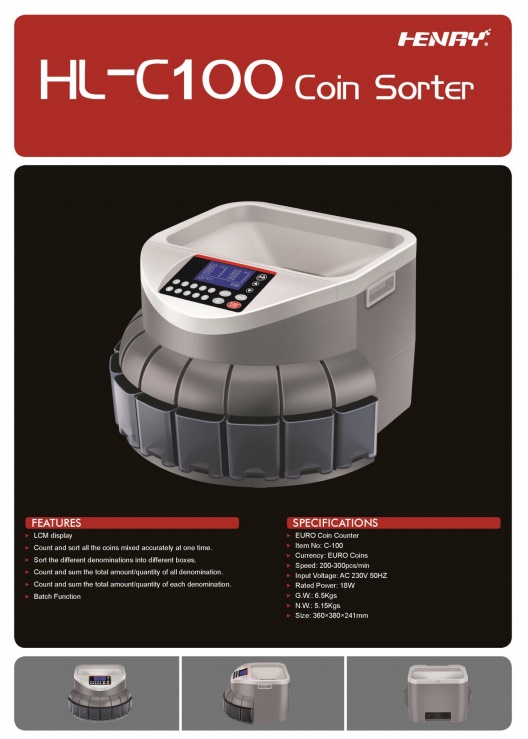 FILING AND DIFFERENTIAL COINS
HL C-100
SPECIFICATIONS:
- Multi-line alphanumeric display, illuminated, LCD type.
- Counts and separates all EURO coins accurately.
- Puts each coin in a separate case.
Counts and sums the total values and quantities per coin and
in total.
- It has a default counting function (BATCH).
- Connecting to a printer, PC
SPECIFICATIONS:
Counting speed: 200-300 coins per minute.
- Operating voltage: AC 230V / 50Hz.
- Consumption: 18W.
- Net weight: 5.15 Kg.
- Dimensions: 360 x 380 x 241 mm
Our store also has other models of this kind. Contact us here and let us know.